Advancement teams across the country are challenged with developing ways to engage with alumni due to the ongoing crisis. With reduced communication and low response rates, stewardship has proven to be difficult. But there are ways to reach out to alumni that allow them to be empowered and helpful during isolation.
Here are some great examples of text messages your team can send:
Now is a great time to thank your annual fund donors
Past support matters most in times of crisis. Send a message that lets your constituents know how valuable their contributions have been, and give examples of the positive results of their support.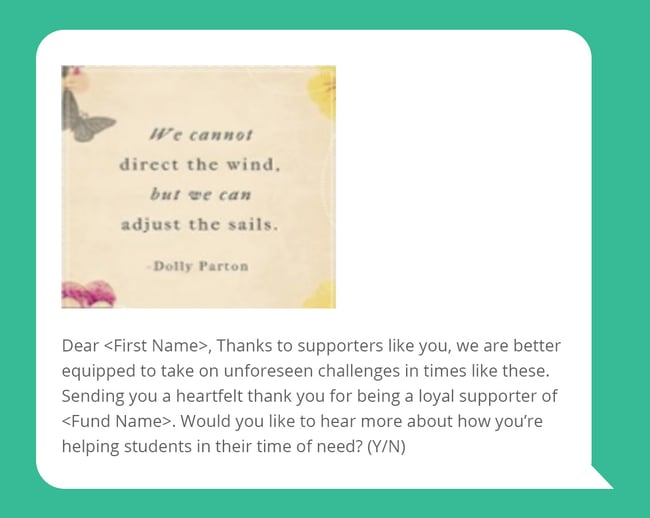 Reach out to offer assistance
Stewardship is more than asking for support. You can also let alumni know that your institution has resources available if they've been negatively affected by a crisis.

Ask for symbolic support
You've likely attended or seen videos of graduation parties carried out over Zoom or in socially-distanced parking lots. Help make sure the class of 2020 doesn't miss out on the recognition they deserve.

Here's an example of what the Canisius College Advancement team in Buffalo, NY did on their social channels to show support for fellow Golden Griffins:
It's a difficult time for reaching out, but the relationships you create now can be stronger than ever. Your advancement team can still engage and empower alumni to help their community, and your outreach can also identify alumni who need assistance navigating their way through this crisis.