What happens when someone browses your school website outside of normal office hours? As you search for the best ways to engage with students and potential students, it's possible that your school is considering a chatbot. Because websites for universities and colleges hold so much information, a chatbot can be a useful tool in helping visitors navigate.
Here are the top 5 reasons a chatbot will improve your college's website
Efficiency
In a perfect world, a college has enough staff members to serve the needs of every student and alum. In the real world, most schools struggle with workloads. Chatbots provide visitors with easy access to academic program details, campus maps, financial aid information, and the mountains of information housed on a website. Chatbots answer questions for prospective and current students, and handle repetitive tasks, allowing your staff to be more efficient.
Lead capture form replacement
While lead capture forms may provide your staff with valuable information, students simply do not want to fill them out, and they're likely to leave your website disappointed and disinterested if they're forced to do so in order to get the information they want. Conversational marketing with chatbots makes it more unobtrusive to collect names and email addresses, and visitors receive the information they want immediately, instead of having to wait days for someone to get back to them.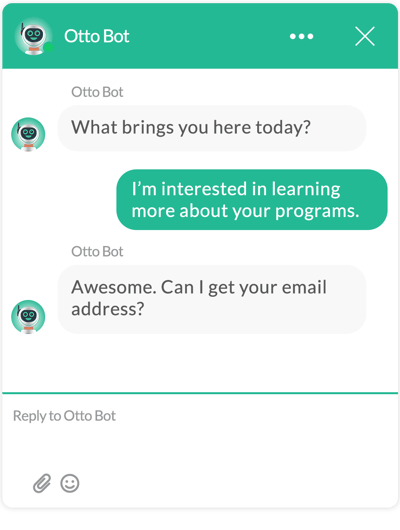 24/7 student services
Your staff can't work around the clock, but students and website visitors browse in their free time, which could be at all hours of the night. Having questions immediately addressed could be the difference between a potential student choosing your school over another. The positive outcomes obtained when questions are answered quickly will score your school more points. See how chatbots like Harmony answer students questions.
Handing off to humans
Inevitably, a conversation with a chatbot will reach a conclusion. When a visitor still needs more info and wants to speak to a human, a chatbot can automatically find the appropriate staff member and prompt them to join the conversation. Intelligent chatbots like Harmony can also connect with staff calendars and schedule a meeting if that staff member is not immediately available.
Data validation
When a website visitor offers their email address, a chatbot can share that information with your school's CRM in real time. This helps construct a knowledge base of potential students, while also updating and validating your existing data. Chatbots let your staff know why someone visited your website and what services or information they're interested in learning more about.
Chatbots can help your school earn a great first impression from website visitors, while also maximizing your staff's valuable time. Perhaps the greatest reason to consider this solution is how it meets the needs of students and helps them succeed.
Want to learn more?
See what a chatbot can do for your school by requesting a free demo today.