Spoiler: It does way more than a traditional chatbot.
A chatbot stands watch on your college website, 24/7, dutifully answering the frequently asked questions of website visitors, making things easier for your staff and your constituents.
This is good.
A virtual assistant actually completes tasks, using complex conversation flows to guide website visitors through processes.
This is better.
Answering a visitor's question about registering for classes is a positive outcome. Providing customized links into the course catalog as well as a direct connection with that student's academic advisor is a much more powerful engagement offering - and that is what an intelligent virtual assistant can do.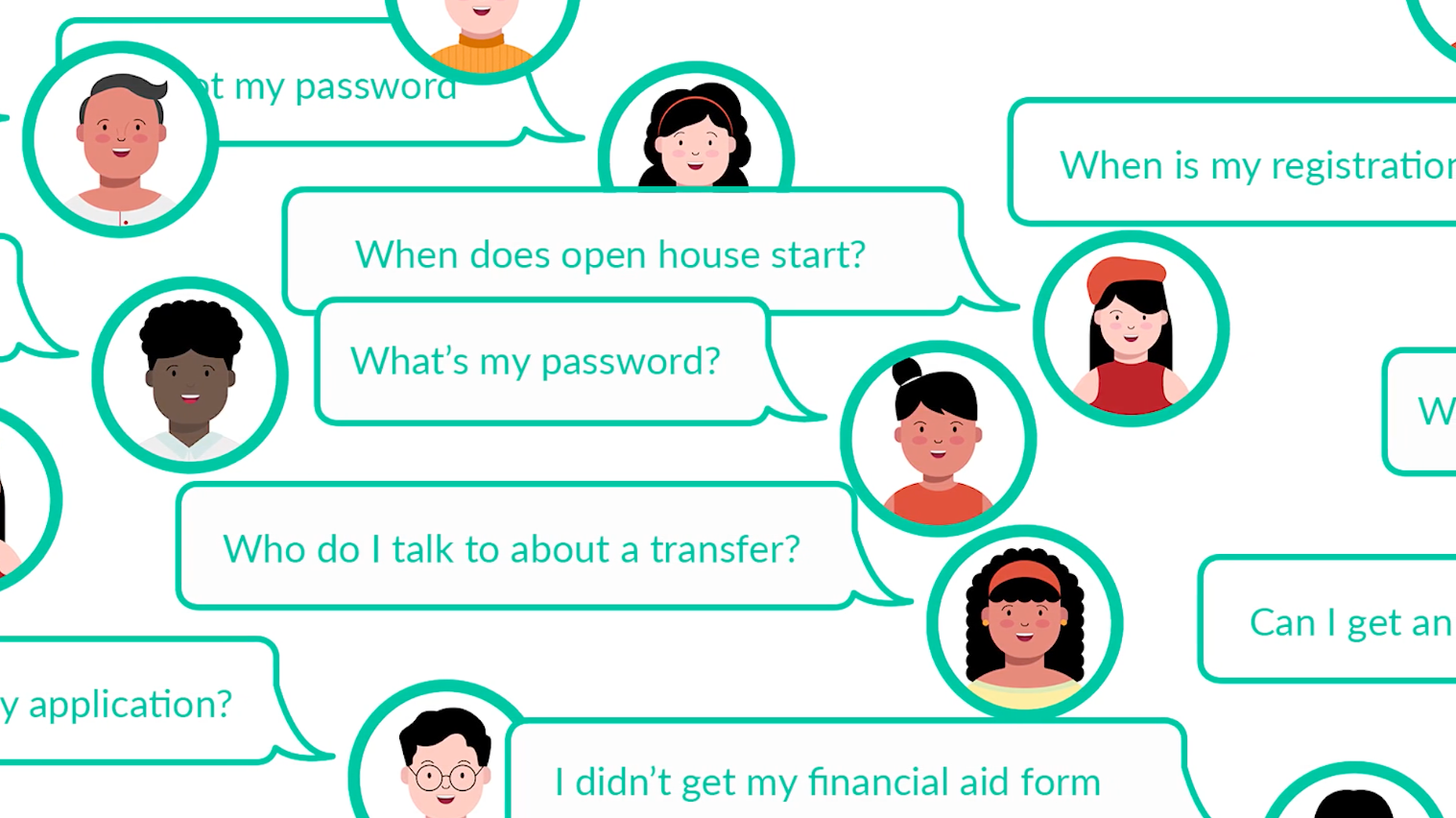 With the amount of requests and questions a department can be burdened with in any given week, this function saves a lot of valuable time. A virtual assistant frees up staff from a myriad of departmental tasks:
Admissions questions
Transcript requests
Password resets
Meetings booked
Financial aid inquiries
And more
Collect data, seamlessly
Forms create friction and stop conversations in their tracks. With a virtual assistant, new lead information from website visitors is collected through the course of a more personal conversation, making it easier to keep your databases up to date.
Book meetings with ease
Sometimes, when a website visitor has reached a conclusion of their conversation with a virtual assistant, they need to meet with an actual human. Visitors can book meetings with staff directly through the virtual assistant, as it integrates with Google Calendar and Office 365, offering available time slots to keep schedules updated. A virtual assistant can also instantly hand off conversations via live chat to appropriate staff members.
See what a flexible integration platform can do
A flexible integration platform helps create a more personalized experience for website visitors. Harmony seamlessly integrates with your existing systems, enhancing the value of your current data. Plus, the new information you gain from website visitors will only enhance future conversations.
Let an intelligent virtual assistant handle repetitive tasks
Both a chatbot and a virtual assistant deliver instant gratification to website visitors. But, while chatbot interactions require follow-up, a virtual assistant helps you engage with visitors until their desired task is complete.